How to Deal With Joints When Sealing or Coating Concrete Floors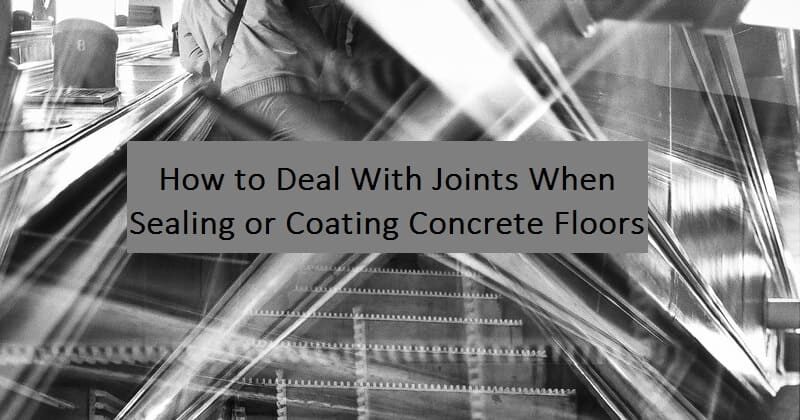 Last updated on April 14th, 2022
One of the interesting debates is how to deal with joints when sealing or coating concrete surfaces. Many home owners and even contractors often ask:
Is a sealer capable of protecting control joints? If we will seal, fill, or caulk such joints, should we do it before or after the application of the sealer or coating? What about expansion and isolation joints?
In this article, we will answer all these questions and more, and discuss the technical aspects of each. But first, let us briefly explain about sealing or coating concrete floors, and about the different types of concrete joints.
Sealing concrete floors
Sealing concrete surfaces in this context refers to the application of a sealer. In fact, a concrete seal is a type of resin flooring, with a thickness less than 150 micrometers. Besides, there are different types of sealers, which can be primarily categorized into topical or film-forming and penetrating sealers. The main purpose of sealing concrete floors is to provide protection against stains, weather, abrasion, chemicals, and even to improve its appearance.
You can find out more about concrete sealers in the following articles:
Coating concrete floors
A coating is another class of resin flooring which has a thickness between 150 and 1000 micrometers, depending on its type. In general, coatings are made of epoxy, polyurea, polyaspartic, or urethanes, and are of a higher build than topical sealers. These coatings are common in various applications including garage and industrial floors.
However, when sealing or coating concrete, you will often encounter different types of joints. In fact, each type may have different sealing requirements, and should be considered accordingly.
There are mainly four types of joints in concrete including:
Construction: A construction joint is an interface between two concrete pours due to intentional or unintentional interruptions. In general, a good practice is to coincide construction joints with other types of joints when possible.
Contraction: A contraction joint is a groove or cut, generally quarter the slab's thickness and or least 1 inch in depth. In fact, it represents a weakened plane to control the location of cracks. Specifically, it helps in controlling cracks and relieving stresses caused by shrinkage, temperature, and moisture.
Isolation: An isolation joint is a complete separation between two between to elements in order to isolate their movements. Thereby, isolation joints are full depth separations with no continuity in reinforcement.
Expansion: An expansion joint is somehow similar to an isolation joint. However, its main function is to allow elements to expand and contract, mainly due to temperature, without damaging each other. In addition, it can have dowels to allow for load transfer.
In slabs-on-ground, contraction joints are the V-grooves or saw cuts dividing a slab into several panels. For example, you can generally see this type of joints at your home in walkways, driveways, pool decks, patios, and garage floors.
Whereas, expansion/isolation joints are the full depth gaps which contain a compressible material (like fiberboard, generally black in color). Or, it may contain another compressible material (such as polypropylene) and a sealant. For example, you can sometimes see these joints between walls and slabs, between your driveway and garage, around columns (diamond-shaped), and at the interface between your house and exterior concrete slabs.
How to treat expansion/isolation joints when sealing or coating concrete floors?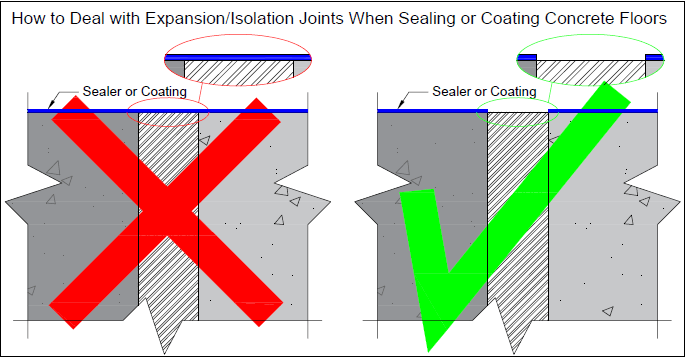 Expansion/isolation joints are considered as movement joints, which can exhibit relatively considerable movements when compared to the other types of joints. Accordingly, the basic rule of thumb is that you should always honor movement joints. In other words, they should extend through the whole thickness of the slab and its flooring, without any material restricting their movement. Thereby, you are not allowed for any film continuity across such joints, unless the material is capable of accommodating to the movements. Otherwise, the film will crack and fail, most probably right over the joint.
Consequently, when applying a sealer or a coating, you should properly cover expansion/isolation joints, regardless of their filling and sealing system. In fact, this not only helps in avoiding film failures (such as peeling off) right over the joint, but also in protecting the expansion joint filler or sealant from the exposure to the chemicals present in the sealer or coating.
In addition, if you are the sealing or coating the surface, and the expansion/isolation joints require sealing, it is preferred to apply the sealer/coating first, and then seal the joints with an adequate elastomeric sealant. However, high performance sealants generally last much longer than surface sealers and most floor coatings. Thus, you will eventually need to cover the joints during maintenance.
Find out how to properly seal common expansion/isolation joints at your house:
How to treat saw cuts or contraction/control joints when sealing or coating concrete floors?
Control joints, unlike expansion/isolation joints, exhibit relatively less movements. In fact, their movements generally reduce as concrete ages, since most shrinkage occurs early and its rate decreases with time.
Is a sealer or coating capable of providing protection against the ingress of incompressible materials and water into control joints?
Based on the previous section, timing is a major factor here. To illustrate, if you apply the sealer/coating to the bare control joint early, it would exhibit higher stresses. Whereas, if you apply it after most of the shrinkage occurs, then it would exhibit less stresses. However, will it be capable of withstanding these stresses? It all depends on their magnitude and on the properties of the sealer or coating. For example, if the sealer or coating is brittle, with no elongation capacity, it will most likely fail right inside the joint even with slight movements. In this case, the material would not be capable of protecting the joint against the ingress of water and incompressible materials.
In case you are sealing or filling control joints and sealing or coating concrete floors, which should come first?
Find out how to properly seal or fill contraction joints, and whether it is necessary:
This question addresses multiple conditions, hence we explain each one separately.
Sealing joints (with a sealant) + sealing or coating the surface (with a sealer or coating)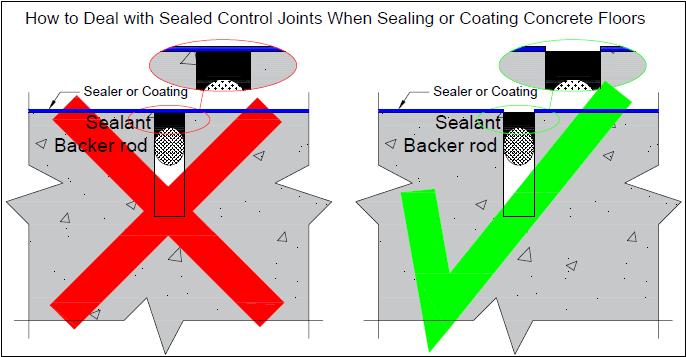 Typically, if you want to seal control joints, you should prepare them and apply the sealant after sealing or coating the surface. Otherwise, you should ensure the discontinuity of the film above the joint. To illustrate, the sealant is flexible and can deflect under concentrated load. Thereby, if the film achieves continuity above the sealant, it can fail as the sealant stretches, contracts, and deforms. In addition, the film might not adhere to the sealant which causes an adhesion failure. However, if you are reapplying the sealer or coating and the joint sealant is still in a good condition, you can either cover it during reapplication, or remove the sealant and reapply it subsequently.
Filling joints (with a semi-rigid joint filler) + sealing or coating the surface (with a sealer or coating)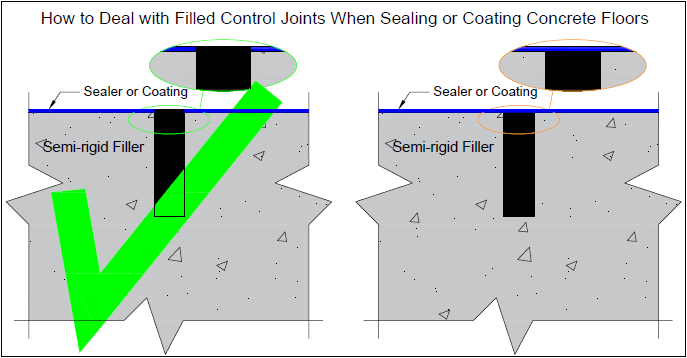 In general, it is best not to have a continuity in the sealer or coating film over a joint filler. However, sometimes coatings are used over joint fillers when a seamless finish is required, although generally not guaranteed for a crack free coating right over the joints. Whereas, if the filler is only necessary to support the edges from spalling, but a seamless finish is not a controlling factor, then it is best to apply the joint filler after sealing or coating the floor.