Bond Breaker Tape: An Important Detailing Component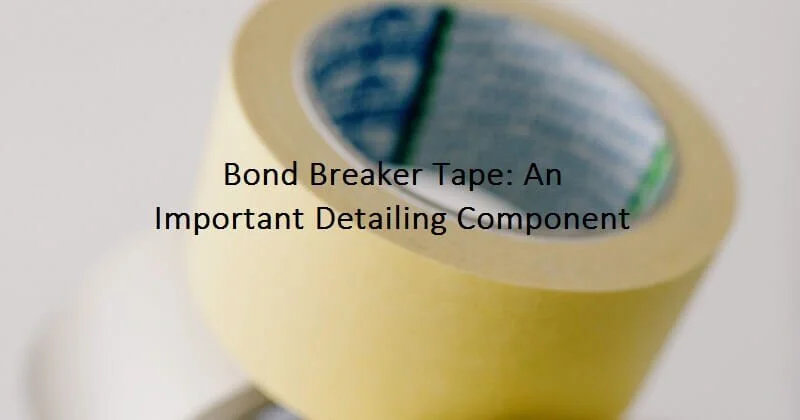 Last updated on April 28th, 2022
What is a bond breaker tape?
A bond breaker tape is a tape which prevents the sealant from adhering to a surface. Basically, it consists of a pressure-sensitive adhesive on one side, and a bond-inhibiting material on the other side. This pressure sensitive adhesive is generally suitable even for irregular surfaces. Mainly, bond breaking tapes can be made of different materials, including:
Polypropylene.
Polyethylene.
And polytetrafluoroethylene (PTFE).
But polyethylene is the most common.
In fact, a bond breaking tape can be an essential component in a joint sealing system. This is especially true in the case when the sealant or caulk can adhere to the base surface. Thereby, it is available in a wide range of widths, ranging between 1/4 to 4 inches (6 to 100 mm), in order to suit different joint widths.
The importance of a bond breaker tape
A bond breaker tape can play a major role in preventing a three-plane adhesion condition. In fact, this condition can ultimately lead to one of the failure modes of joint sealants, such as an adhesion or cohesion failure. This is mainly because a three-plane adhesion system induces additional stresses to the caulk or sealant during the movement cycles of the joint. For this reason, a bond breaking tape can be used to prevent this condition, and maintain a two-plane adhesion system instead.
The following illustration shows the importance of a bond breaker.

When to use bond breakers with sealants and caulks?
A bond breaker tape is an essential component in cases where the sealant can adhere to its base surface. This base surface can be an isolation or expansion joint filler material, concrete, backer rod, or any other base that can lead to a three-plane adhesion condition. However, it is important to note that most backer rods can serve as a bond breaker as well, and thus a separate bond breaker would not be necessary.