5 Terrible Concrete Sealing Mistakes You Should Avoid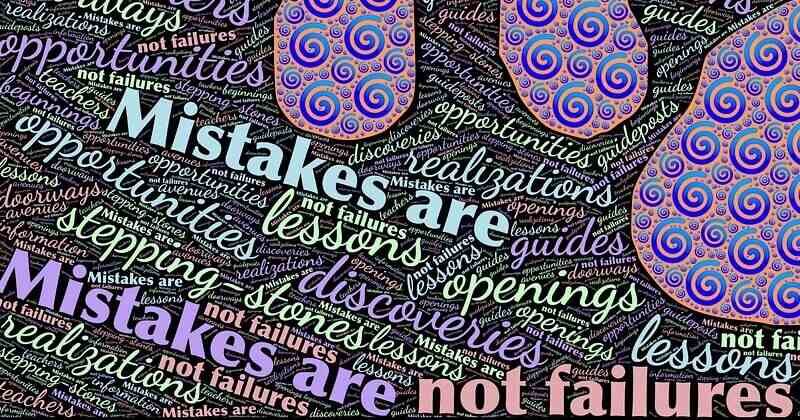 Last updated on April 6th, 2022
Concrete sealing is an important process which not only provides protection but can also enhance the appearance of the surface. However, in order to achieve the desired overall results, it is crucial to follow the best practices and avoid the following five mistakes.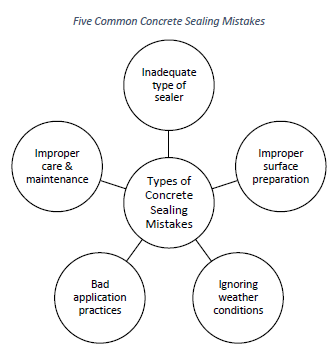 Concrete sealing mistakes
Mistake #1: Choosing an inadequate concrete sealing product
Choosing the right type of sealer is crucial in every application. Specifically, this ensures that it meets the safety, overall performance, and appearance requirements.
However, most of the mistakes under this category can be mainly caused by either the lack of knowledge about concrete sealing products, their types, properties, common applications, and pros and cons, or due to the improper assessment of the sealing requirements. These mistakes can be divided into rookie mistakes and more technical ones.
On one hand, rookie mistakes with sealer selection are the ones mostly related to choosing a totally inadequate type of sealer, or a right type but which does not owe the required properties or meet the requirements of the project. To illustrate, an example includes using a non-breathable and ultraviolet-sensitive sealer on a concrete driveway exposed to weathering conditions, which can lead to fogging up, yellowing, and adhesion failure problems. Another example includes using a non-food grade sealer on a concrete countertop, which can be hazardous. In fact, such mistakes are mostly done by inexperienced personnel or "do it yourself-ers". However, they are rare or uncommon when it comes to experienced concrete sealing contractors and companies.
On the other hand, technical mistakes with sealer selection are those that generally involve selecting the right type of sealer but which does not owe certain properties or characteristics to satisfy specific requirements, or that is of a bad quality. In fact, this is a quite common mistake when considering its various aspects. Even well experienced contractors can sometimes fall into it, since every project has different requirements and choosing the right type of concrete sealing product for a certain application requires assessing numerous factors and conditions.
The following tables show some examples of these mistakes based on some characteristics of sealers.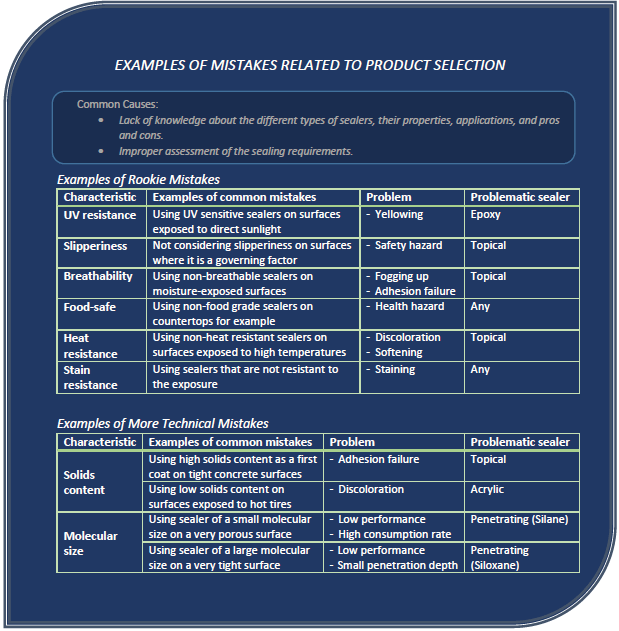 Pro tips to avoid common concrete sealing mistakes related to the selection of the sealer
Understand the different types of sealers, their characteristics, limitations, advantages, and disadvantages.
Learn how to choose the best concrete sealing product for your project by properly assessing various controlling factors.
Always make sure that the sealer is of a high quality and that it conforms to international or well-known standards.
Keep up with the regulations, new technologies in this field, and learn about the different types/new products/application methods.
As a contractor, always discuss the slip resistance with your clients before sealing, and also resealing. Slip resistance should comply with ASTM D2047.
Mistake #2: Improper surface preparation
Surface preparation is an essential procedure in applications which involve installing any type of resin floors, including sealers. Basically, this procedure ensures that the surface is suitable to provide good adhesion, bond, and/or penetration of the concrete sealing product.
However, sealing problems related to improper surface preparation are the most common ones. Specifically, concrete surface preparation consists of several steps, including inspections, profiling, and cleaning, in which any mistake in any of the steps can lead to sealing issues. In fact, the main causes for falling into such mistakes include the lack of knowledge about the requirements of concrete surface preparation and its details, and mainly improper inspections.
Some of the most common mistakes include improper cleaning and not considering the moisture content. For example, leaving excessive amounts of release agent, dirt, debris, curing compounds, or any material that can negatively affect the bond strength can lead to an adhesion failure of the sealing product. Also, having an excessive moisture content, before and/or after the application, can cause numerous problems such as fogging up, whitening, and penetration and adhesion failures.
The following figure shows some example of concrete sealing mistakes related to improper surface preparation.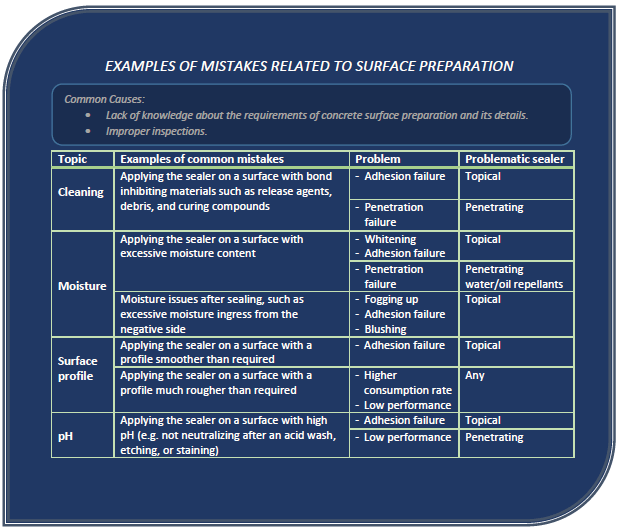 Pro tips to avoid common concrete sealing mistakes related to surface preparation
Even though concrete may look dry shortly after wet cleaning, it can still have excessive moisture content for sealing.
When working with stamped concrete, it is preferred to remove excess release by rinsing with a light acid then neutralize.
Learn about concrete surface preparation and understand its importance.
You can preferably measure the pH and moisture content of substrate.
Mistake #3: Ignoring the weather conditions
Weather conditions can have a significant impact on the success of any concrete sealing project. Thereby, it is always crucial to take into consideration the various parameters related to weather. However, it is important to note that not all types of sealers are equally affected by these conditions. Some sealers are more sensitive, whereas some are more resistant and can be applied in relatively "harsher" conditions. Nonetheless, almost all concrete sealing products have allowable ranges and limits on certain parameters, such as the allowable ambient temperature range during application.
Hence, exceeding these limits can cause undesired results. Generally, concrete sealing mistakes related to weather conditions are the cause of the lack of knowledge about the product's limitations to these conditions, improper assessment of the weather conditions, or unexpected circumstances.
Some common errors under this category are related to temperature, both the ambient and the surface temperatures. In fact, the temperature can affect the properties of some sealers and can also cause various problems. For example, the viscosity of solvent based sealing products can vary based on temperature. Specifically, higher temperatures increase their viscosity, and lower temperatures decrease their viscosity. Also, another important parameter that temperature can highly affect is the drying time. In addition, when it comes to sealing problems related to weather conditions, these mainly include bubbling, chalking, becoming sticky, turning white, flash setting, and others, which depend on the type and composition of the sealers.
In brief, the following figure shows some examples concrete sealing mistakes related to weathering conditions including temperature, humidity, sun, and wind.
Pro tips to avoid common concrete sealing mistakes related to weather conditions
You can preferably measure some critical parameters such as the moisture content, humidity, ambient temperature, and surface temperature.
Cure and seals and penetrating sealers take longer to dry when the humidity is high.
Always check the allowable ambient temperature of application for the specific product. In general, a 50-80 ambient temp range is suitable with most sealers.
Take more care with water based sealers, since they are generally more sensitive to weather conditions.
During warm weather, apply during the coolest part of the day (morning, evening).
Acetone-based sealers can be probably a good choice in cold weather.
When the humidity is high, you can reduce it by using dehumidifiers and allowing air flow with adequate ventilation in interior applications.
It is important to understand the minimum film forming temperature (MFFT), and never apply the sealer when the temperature is below the minimum.
Mistake #4: Bad concrete sealing application practices
The application practices also have a significant influence on the appearance and overall performance of the sealer. However, different sealers may have different ideal application practices, which can be related to numerous parameters.
In fact, the technical faults related to bad application practices are somewhat common, and are often due to the lack of experience and knowledge. To illustrate, these faults include applying the sealing product without adhering to the recommended consumption rate, which can lead to a low overall performance, bubbling, cracking, and/or whitening. Also, they include improper application methods and techniques which can cause blotchy appearance, blisters, marks, and others.
The next figure shows some examples of mistakes related to bad concrete sealing application practices.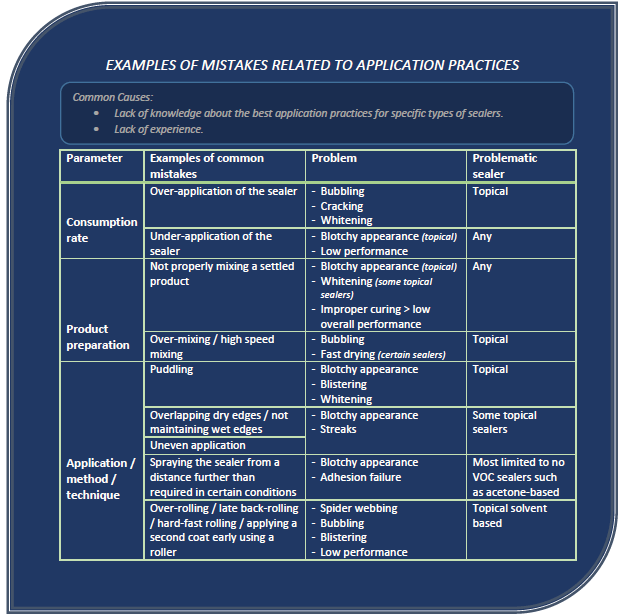 Pro tips to avoid common concrete sealing mistakes related to application practices
It is important to understand the drying and curing times of the product in use. These include the time to tack-free, time to light foot traffic, and time to full service.
Back-rolling is your best friend, even when spraying, especially on overlapped edges. It also helps in a more uniform coverage and elimination of overlapping.
When using a roller, always maintain a wet edge and go light on overlapped edges.
In general, when it comes to application and repair, solvent based sealers are preferred over water-based ones.
High solids content sealers generally require a higher capacity spray nozzle when compared to that of low solids content sealers. Basically, a relatively small spray nozzle can result in streams instead of uniform spray output. Besides, this spraying capacity is measured by the volume output per a unit time.
Always clean the sprayers after every application. A clogged sprayer will also cause uneven coverage.
It is important to understand the term dry film thickness (DFT) and its importance. Although the consumption rate range is a crucial parameter to follow, the DFT is more precise.
Safety always comes first. Hence, it is crucial to wear protective clothing during application (gloves, mask, and eyeglasses).
Apply with the recommended consumption rate for proper performance and appearance.
Always read and follow the manufacturer's guidelines and recommendations.
Avoid puddling at low spots and joints.
Note:
Several states have VOC regulations that restrict the use of basic solvent based sealers. Instead, solvent based sealers with a different 'carrier' can be used, such as acetone. However, contractors should take precautions and care to avoid common mistakes, since these sealers are generally harder to work with. For instance, use sprayers that are resistant to these carriers. Besides, such sealers dry much faster than xylene based ones for example. Application wise, the contractor should hold the nozzle closer to the surface (less than 6"), else the product can somehow 'dry' before reaching the surface. In addition, it is often better to apply these sealing products with a sprayer not just a roller, but followed by immediate back-rolling. Further, avoid direct sunlight, high temperatures, and wind. Also, apply in the coolest part of the day during hot weather.
Mistake #5: Improper care and maintenance
Proper care and maintenance practices start right after the application of the concrete sealing product. These mainly help in ensuring that the sealer cures without any undesired interference. Also, they help in avoiding mistakes and maintaining the desired overall performance and the appearance of the surface. However, different types of sealers have different composition, durability, resistance, and limits. Hence, the care and maintenance practices may vary between one sealing product and another.
In general, improper care and maintenance can lead to a wide variety of problems, and are generally due to the lack of knowledge. In fact, some can only affect the appearance, whereas others can affect the overall performance of the sealer and even the substrate. For example, some bad practices can cause light scratches on topical sealers, which can mainly affect the appearance, but with little to no effect on the performance of the sealer. However, some other bad practices, such as using "harsh" chemicals exceeding the resistance capabilities of the sealer, can significantly affect its overall performance.
The following figure shows some mistakes related to improper care and maintenance practices with sealers which can lead to a variety of problems.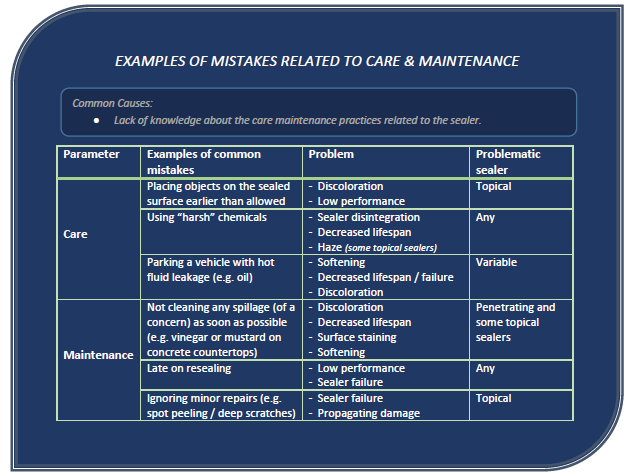 Pro tips to avoid common concrete sealing mistakes related to care and maintenance
As a contractor, or salesman, always educate the client about care and maintenance requirements (cleaning, use of chemicals, and resealing).
Also, inform the client about the time to light foot traffic and full service.
Conclusion
Concrete sealing mistakes are numerous and can cause plenty of problems. Hence, it is crucial to always implement the best practices in order to avoid any problems. This article addressed the most common sealing mistakes, and provided valuable technical tips which help concrete sealing contractors stand out between others. Besides, it can be a valuable troubleshooting source.