Concrete Expansion Joint Filler Materials: The Essentials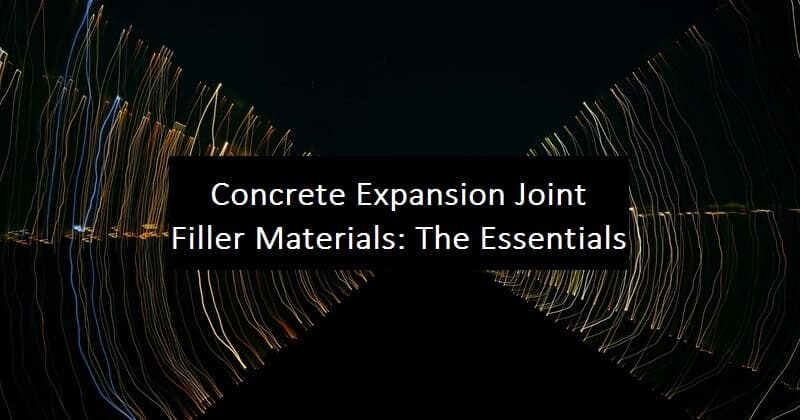 Last updated on October 26th, 2022
What is an isolation or expansion joint filler material?
An isolation or expansion joint filler is a preformed material, usually compressible, used at the interface between the elements of the joint to serve certain purposes. Basically, it is available in a rectilinear shape, and is a common component in concrete and masonry works.
The function of isolation and expansion joint fillers in concrete
Isolation and expansion joint filler materials serve two main functions.
First, they help in forming the joint, and provide the gap or separation to allow for movements. These movements are mainly due to volumetric changes in concrete because of the temperature, and due to loading.
And second, they can protect the joint from the intrusion of incompressible materials and sometimes water.
In addition, these joint fillers can also serve as a support for the sealant and its backing material. However, it is important to note that these types of concrete joints are considered as movement joints. Thereby, for the joint filler to serve its purposes, it should be compressible, and be able to accommodate to some movements. Moreover, it should also be stiff, resistant, non-staining, inert, and be able to recover.
Materials
Joint fillers are available in different materials, where each has its advantages and disadvantages, and can be suitable for different applications and exposure conditions. Some of these materials include:
Sponge rubber: This material is flexible, light, easily compressible, does not absorb water, and has a good recovery. In addition, sponge rubber joint filler should conform to ASTM D1752 Type 1.
Flexible foams (expanded polyethylene, polyurethane, polypropylene, and polyvinyl chloride): These materials have the same benefits as sponge rubber. However, they generally require support during concrete pouring.
Rigid foams (expanded polyethylene, polyurethane, and polystyrene): These joint fillers usually have a bad recovery.
Bituminous or resin impregnated cork or fiber board: It is one of the most commonly used joint fillers. Mainly, it is easily compressible and has a moderate recovery. However, it can be incompatible with non-asphaltic sealants, and shouldn't be in contact with them.
Bentonite: This is a non-compressible type of joint fillers which swells when it absorbs water.
Self-expanding cork: Similar to Bentonite, the self-expanding cork as its name implies, expands when it absorbs water. But, it is a compressible material, and should conform to ASTM D1751 Type 3.
Wood: It is hardly compressible, can swell when it absorbs water, easy to use, but has a bad recovery.
Metal or plastic: These expansion joint filler materials are only used in special applications. They are hollow and compressible, easy to use, and easy to install.
Resin or bitumen impregnated glass fiber or mineral wool boards: These boards are compressible, easy to use and install.
Configuration and installation of isolation and expansion joint filler materials
Concrete expansion joint filler materials should cover the full depth of the joint, at least initially. But when a sealant material is required, a portion of the filler is removed to form the necessary space for the sealant and its backing material (if required). In fact, some types of joint fillers can serve as a backing material and bond breaker, in which the applicator can apply the sealant directly on the filler.

In order to achieve these configurations, first the workers install the isolation and expansion joint filler material prior to concrete pouring (in most cases). Basically, they can position the filler using bulkheads, or attach them to other rigid materials, depending on the location of the joint. Then, after pouring, if a sealant is required, they remove the top portion to allow for its proper installation. This can be achieved through three methods:
Methods for removing the top portion of the expansion joint filler material
Pre-scoring the filler to the suitable depth, and attaching it with screws or other means to allow for easy removal.
Placing a strip of wood with the suitable depth on top of the filler, and attached similar to the first method.
Or, the simplest and most practical method is using a readily available filler with a removable top portion, or use a special removable cap.
These methods help in forming the necessary depth for the additional sealing system. Afterwards, the applicator installs the backer rod in place at the suitable depth, and then applies a sealant, generally an elastomeric modern joint sealant. But, if the filling and sealing system of the isolation/expansion joint consists of applying the sealant directly on the joint filler, the applicator installs a bond breaker first if necessary, and then applies the sealant. However, it is important to note that the initial depth after the removal of the top portion should usually equal half the width of the joint in this case. Otherwise, the improper shape factor can cause a sealant failure.
Tips
Do not compress bituminous impregnated fiberboard joint fillers more than 50%. Else, the bitumen can extrude and damage the sealant. For this reason, it is also not recommended to use such expansion joint fillers with non-bituminous sealants.
Make sure the joint filler is properly positioned and held in place, otherwise a displaced filler can cause problems.