The Ultimate Guide to Backer Rods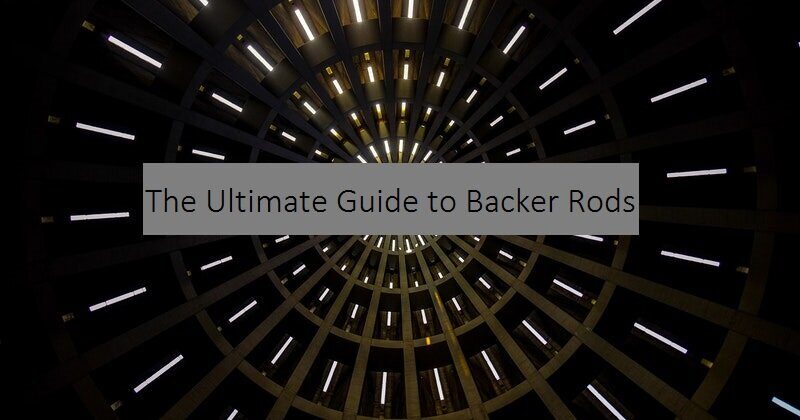 Last updated on July 18th, 2022
What is a backer rod?
Backer rods are an essential backup component in the installation of field-molded sealants and caulks for joints, gaps, voids, grooves, and large cracks. Mainly, they represent a compressible rod-like material which is available in different sizes, shapes, and cellular structure. In fact, foam backer rods are common in various construction applications, and are often installed before the sealant or caulk to serve certain purposes.
Why use a backer rod?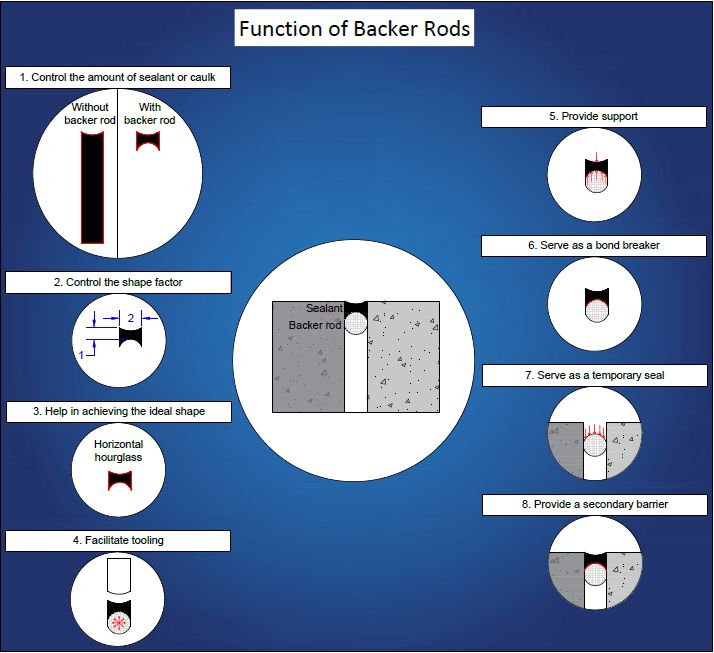 Backer rods can have different important functions including:
Function #1: Control the amount of the sealant or caulk
Controlling the amount of sealant or caulk can have a great impact on the cost. Besides, filling the whole depth of a joint can be not only expensive but also impractical, inefficient, and bad for the overall performance. Thereby, when the depth of the joint exceeds the requirements, the applicator uses a backer rod to control the amount of sealant or caulk. In fact, the depth requirements are usually related to the shape factor requirements, which help in enhancing the performance of the sealing system while reducing its cost.
Function #2: Control the shape factor of the sealant or caulking material
The shape factor is one of the most important factors to consider when applying a sealant or a caulk. In general, the ideal depth to width ratio is 1:2, which means that the depth should be half the width. Otherwise, the material can exhibit additional strains. To illustrate, a 1:1 and 2:1 shape factors can increase the tensile strain 2 and 3 times, and the compression strain 3 and 12.5 times that of 1:2, respectively. Thereby, a foam backer rod can help in controlling the depth, and thus the shape factor.
Function #3: Help in achieving the optimal shape
Also, a backer rod can help in achieving the optimal shape of the sealant or caulk, especially at the back end. For example, in butt joints, the ideal shape represents a horizontal hourglass. The top part can be achieved by tooling, whereas the backend part can be achieved solely by the shape of the backer rod.
Function #4: Facilitate tooling
In addition, a backer rod plays a major role in facilitating the tooling of the sealant, especially for the non-sag and non-self-levelling type. Mainly, these types require tooling in order to properly fill their space, achieve a proper wetting of the walls of the joint, and maintain the desired surface shape.
Function #5: Provide support
Another important function of foam backer rods is that they provide support for the sealant or caulking material, not only to prevent its sagging into the bottom of the joint, but also to support it especially in applications where high point loads or concentrated loads are present. For example, joints in concrete sidewalks can be subject to concentrated loads due to high heels. This condition requires the use of a dense backer rod to support and prevent a sealant failure, in particular losing its adhesion and sinking into the joint.
Function #6: Serve as a bond breaker
Furthermore, most of the backer rods also serve as a bond-breaking material. This characteristic is highly important in order to avoid a three point adhesion condition of the sealant or caulk, which induces additional stresses and causes failure.
Function #7: Serve as a temporary joint seal
Also, backer rods can serve as a temporary joint seal, especially in the period between pouring concrete and sealing or caulking the joints. In general, joints in new concrete which require sealing are sealed after 28 days of pouring. During this period, the joints are exposed and can be prone to the intrusion of water and incompressible materials. Thereby, foam backer rods can be used to temporary seal the joints until the application of a sealing system.
Function #8: Provide a secondary barrier
Finally, backer rods can sometimes also provide a secondary barrier when the sealant or caulk fails.
However, it is important to note that although non-absorptive backer rods can sometimes act as a temporary seal or secondary barrier, this does not mean that it provides the same protection as a sealant or caulk. Else, the latter would not be required.
Backer rod applications
Backer rods are common in various construction applications including glazing works, copings, concrete works (in particular in different types of concrete joints), precast concrete, tiling works, sealing of windows/doors, and many others. However, these applications may have vertical or horizontal joints, with different exposure conditions. Accordingly, backer rods are available in different types to suit different applications.
Types of backer rods
Backer rods are classified into different types according to either their intended use (ASTM D5249) or to their internal cellular structure (ASTM C1330). In this section, we will mainly address the latter classification.
Backer rods are available three main types according to their internal cellular structure, including open, closed, and bi-cellular.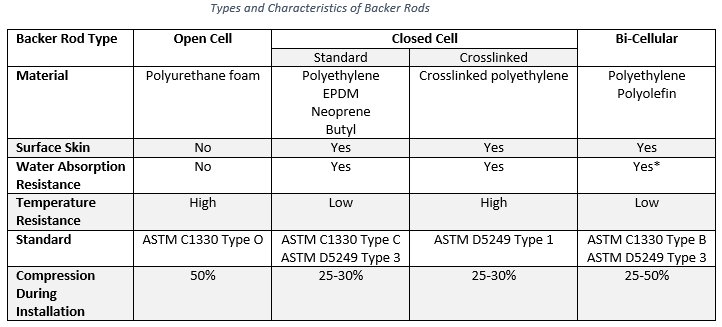 Open cellular structure (ASTM C1330 Type O)
A backer rod of open internal cellular structure is basically a sponge-like rod, usually made of polyurethane foam, which can absorb water and gas, and does not have a surface skin. In addition, it is mainly characterized by its low density, high flexibility, and ease of compression.
Consequently, this type of foam backer rods should not be used where its absorption can affect the performance of the sealant. For this reason, the application of open cell backer rods is usually limited to vertical applications where water or moisture is not of a concern.
However, due to its cellular structure, composition, and absence of surface skin, it has its own benefits. For example, it can accelerate the rate of curing of moisture or air cured sealants, through curing from both sides. This can reduce their exposure to movements during their curing period. Besides, this type usually does not outgas.
Size selection tip: select a size of about 50% more than the width of the joint.
Closed cellular structure (ASTM C1330 Type C)
Closed cell backer rods are moderately compressible and do not absorb water or gas. They are mostly made of standard or crosslinked polyethylene, but can also be made of EPDM, neoprene, or butyl.
In fact, the main difference between standard and crosslinked polyethylene is that the latter is generally easier to compress and can withstand higher temperatures. Thereby, the standard polyethylene is usually limited to cold-applied sealants, whereas the crosslinked is suitable for both cold and hot applied sealants.
Nevertheless, closed cell backer rods are suitable for both horizontal and vertical applications, even where water or moisture is present. However, since they are moderately compressible, they are generally applicable for joints with a uniform width having negligible differentials, but are beneficial in applications where concentrated loads are present. In addition, it is important to note that this type of foam backer rods can outgas when punctured.
Size selection tip: select a size of about 25-30% more than the width of the joint.
Bi-cellular structure (ASTM C1330 Type B)
Bi-cellular backer rods are basically a combination of open and closed cell structure, usually made of polyethylene or polyolefin. In particular, the inner part consists of an open cell, and the outer part consists of a crosslinked closed cell, which forms a surface skin.
Accordingly, it has the characteristics of closed-cell backer rod in terms of water resistance, but is more compressible and flexible, and does not outgas. However, it is important to note that cuts and end punctures can intrude water and moisture.
Thereby, this type is applicable for both horizontal and vertical applications where water or moisture is of a concern. In fact, it is most suitable where the substrate has a high surface roughness, such as exposed aggregates, or where the joint's width is not uniform having slight differentiations. In addition, bi-cellular backer rods are usually limited to cold-poured sealants.
Size selection tip: select a size of about 25-50% more than the width of the joint.
Foam backer rod sizes and shapes
Foam backer rods are generally available in various sizes in the range between 1/4 and 3 inches (6-75mm). However, as we previously mentioned, it is important to select the proper size based on the type, as follows:
Open cell: about 50% wider than the joint.
Closed cell: about 25-30% wider than the joint.
Bi-cellular: 25-50% wider than the joint.
In addition, foam backer rods are also available in different cross-sectional shapes, with the most popular being circular. Other shapes include triangular, rectangular, trapezoidal, and others.
Why water absorption is a controlling factor?
Selecting the adequate type of backer rods largely depends on the water absorption and exposure conditions. Simply put, a continuously saturated foam backer rod in contact with the sealant or caulk and concrete can be detrimental. This is especially true when the liquid is not simply water, but can contain salts and other harsh chemicals. For example, a backer rod in a pavement joint can be subject to water and deicing salts. In fact, the constant moisture can lead the formation of oxychloride in the concrete. Both the salts and the oxychloride formation are detrimental to concrete, and thus to sealant performance in the joint. Thereby, the use of a non-absorptive backer rod is necessary in this case.
How outgassing of the backer rod can be detrimental to joint sealants or caulks?
Outgassing is the condition when the foam backer rod, in particular extruded closed cell, releases gas because of punctures or rupture. In fact, this occurs because air injection is a part of the manufacturing process of such materials, where trapped air is an essential component. But when this air escapes because of a puncture, it can cause problems to the fresh sealant or caulk, such as bubbling.

How to install a backer rod?
A backer rod can be typically installed by pressing it into the joint to the desired depth. However, there are backer rod insertion tools which can facilitate this process and help in easily achieving a uniform depth.
Tips
Do not use compressible backer rods in joints subject to heavy traffic or concentrated loads.
Avoid twisting or stretching backer rods.
Reduce the cuts as much as possible.
At intersecting joints, do not cut the backer rods. Instead, install the transverse rod above the longitudinal one, while maintaining the depth requirements.
Most modern foam backer rods are non-staining, and some are specially coated for this purpose. However, a bond breaker between the backer rod and the sealant can also serve in reducing or avoiding staining.
Avoid puncturing the backer rod which can outgas and cause bubbling and other problems to the sealant.
Avoid excessive compression of closed cell backer rods.
It is best to replace backer rods serving as temporary joint seals prior to the application of the sealant.
Make sure to use a backer rod of an adequate size; a smaller rod which fits loosely can float during the application of the sealant.
Avoid braiding or doubling up.
Always follow manufacturer's recommendations and ensure compatibility.
Bibliography
(2018). Concrete Pavement Joint Sealing/Filling. 9450 W. Bryn Mawr Ave., Suite 150, Rosemont, IL 60018: American Concrete Pavement Association.
FHWA. (2019). Tech Brief: Joint Sealing. FHWA.