Sealing the Gap between your Garage Floor and Wall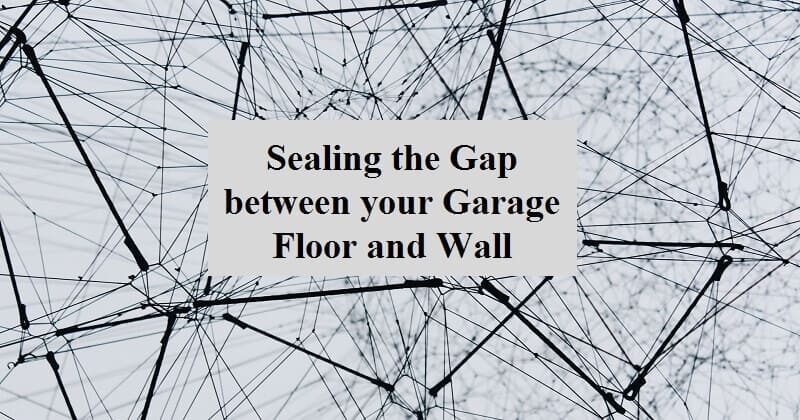 Last updated on July 20th, 2023
Ever wondered what that gap between your garage floor and wall is? Why it is there? And if it does require any maintenance?
This article thoroughly addresses the major details behind this gap, and provides a step by step procedure on how to seal it.
What is that gap between your garage floor and wall?
The gap is technically a joint, and in specific an isolation joint. In fact, in some cases, this joint is a fundamental part of the design. In addition, it can be also related to the casting sequence.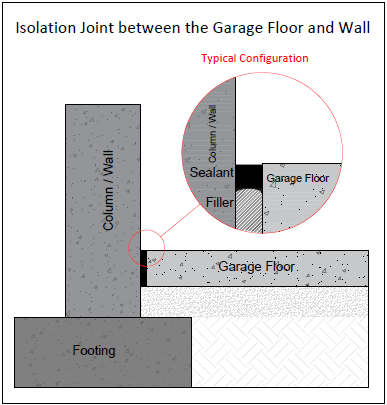 For example, engineers sometimes design the slab-on-ground garage floor as a separate member. In this case, it has no connections to other structural members. To illustrate, the contractor pours the footings first, then the walls and/or columns, and then the floor. In this case, they generally isolate the floor using a perimeter isolation joint. Usually, it is a 3/4 to 1 inch gap between the basement floor and wall. However different widths are also common, depending on the design.
This type of concrete joints represents a full depth gap which completely separates two elements. Hence, its purpose is to isolate elements, and allow for movements without restrictions. Accordingly, such gaps do not permit any continuity in reinforcements and do not contain dowels.
How is the gap between your garage floor and wall created, and what does it contain?
Based on the construction sequence of structures which generally contain these gaps in design, a compressible filler is placed at the interface where the garage floor meets the existing concrete, before pouring. Hence, after pouring, this gap containing the filler will separate the garage slab from the wall or other adjoining elements, and isolate their movements.
Besides, the compressible filler not only aids in forming the gap, but also in preventing foreign materials from entering it. These incompressible materials include dirt, debris, sand, etc. This is significantly important since the intrusion of such materials can limit the effectiveness of the joint.
In addition to the compressible filler, these gaps generally contain a sealant on top. Specifically, builders use a filler with a removable top portion, or customize it during forming. This process creates a space for the application of the sealant material.
However, although this is the preferable system of filling and sealing isolation joints, sometimes builders leave such gaps with the compressible filler only without the sealant.
But this gap will eventually require maintenance
In general, no matter how high the quality of work or products put in the joint, their service life is usually less than that of the structure. Thereby, at some point, the filler may start degrading. Or, the sealant may fail with one or more of its failure modes. Hence, maintenance, in particular the reapplication of the sealant, is mostly inevitable.
Otherwise, if this gap is left without maintenance, it could cause problems related to appearance and even performance. For instance, the intrusion of incompressible materials can limit the freedom of movement between the elements. This eventually induces stresses, which cause cracks. In addition, the intrusion of water can also cause moisture issues, corrosion, and others.
Thereby, it is important to properly maintain such joints to ensure their satisfactory performance and avoid more serious and expensive fixes.
How to seal the gap between your garage floor and wall?
In order to properly seal this gap, you should follow a three step procedure including assessment, surface preparation, and application of the sealant. In fact, sealing this gap is exactly similar to the method we described in a previous article about sealing the gap between your garage floor and driveway. Basically, these gaps are similar in terms of configuration and purpose and have the same sealing method.
In brief, we can summarize the major steps as follows:
Inspect the gap to know its condition and requirements.
Get the necessary tools and materials including gloves, ruler, wire brush, utility knife, vacuum cleaner, backer rod, tape, caulking gun, and sealant.
Prepare the surface to ensure a good bond.
Install an adequate backer rod if necessary, and make sure to provide a good shape factor for the sealant.
Apply a modern elastomeric joint sealant.
Frequently asked questions
How long does a sealant last?
In general, high performance elastomeric sealants in the joint between your basement floor and wall can easily last more than 7 years. However, it all depends on the exposure conditions, quality of products, and quality of preparation and application.
Can i fill the gap between the garage floor and wall with mortar?
The short answer is no. Basically, this isolation joint is a movement joint, and thereby its components should not restrict its movements, but be able to accommodate to them. For this reason, the filler and sealant are compressible and flexible materials, respectively. Whereas, mortar is not a flexible material, and will not be able to accommodate to any movements. Hence, it can easily detach from the walls of the joint or crack. In addition, it can restrict the movement of the joint and cause edge spalling, cracking, and other problems.