Definition and Classification of Concrete Reinforcing Fibers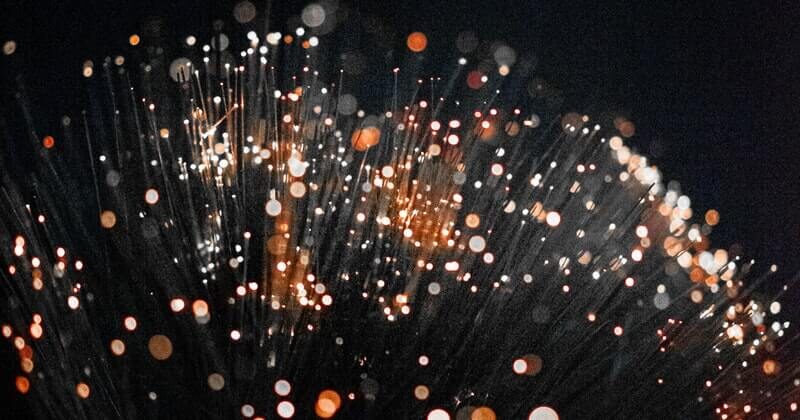 Last updated on March 23rd, 2022
Definition of concrete reinforcing fibers
Concrete fibers are small thread-like reinforcing materials, which possess specific physical, chemical, and mechanical properties. They mostly have circular or flat cross-sectional shapes.
Significance of fibers in concrete
In general, concrete fibers can control plastic and drying shrinkage cracking, and do not perform as structural reinforcements. Nevertheless, depending on their type and properties, fibers can enhance various physical, mechanical, and durability properties of concrete.
Classification of concrete reinforcing fibers
Fibers can be classified, according to their origin, into two main groups, natural and man-made.
Natural fibers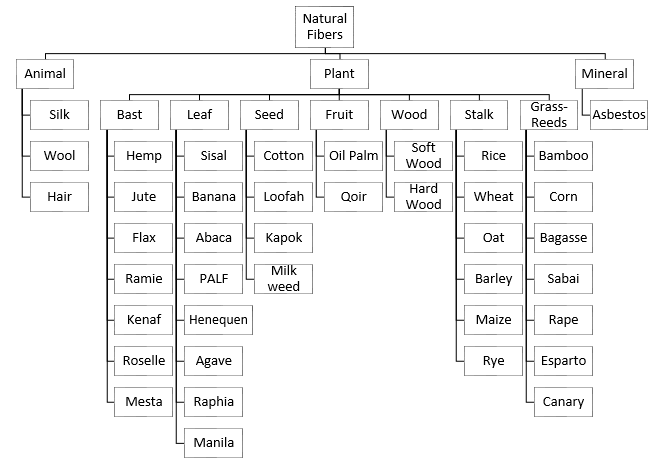 Natural fibers are those derived from animals, plants, or natural geological processes. In fact, the use of such fibers in the concrete history can be dated back to about two thousand years ago. At that time, Romans used horse hair as concrete reinforcing fibers.
Lately, researchers have been conducting numerous research to study the possibility of using natural plant fibers instead of man-made fibers in concrete. These reinforcing fibers include sugarcane, flax, cotton, palm, hemp, banana, abaca leaf, bamboo, date, sansevieria, vakka, kenaf, pineapple, ramie, eucalyptus grandis pulp, hibiscus cannabinus, malva, jute, coir, sisal, and many others.
Advantages of natural concrete reinforcing fibers
In fact, natural fibers have a lower cost, are more sustainable, and are more eco-friendly. In addition, many kinds of these fibers are widely available, since they grow naturally and require low energy to produce. Furthermore, they are relatively cheaper and more eco-friendly than man-made fibers.
Disadvantages of natural concrete reinforcing fibers
However, most natural fibers are hydrophilic and are less durable as they naturally degrade over time. Moreover, their quality may be inconsistent as temperature, humidity, harvesting process, treatment, location, and time can significantly affect their properties. Thereby, improving the durability of such fibers is essential. In fact, chemical treatments or the application of special coatings can significantly improve their durability.
You can read more about the function of fibers reinforcements and the treatment methods in the following article, "The Function of Fiber Reinforcement in Concrete".
To sum up, the following table shows the typical properties of various natural fibers.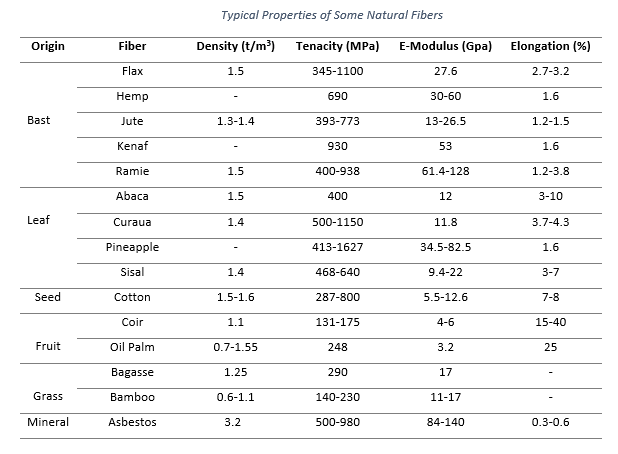 Man-made concrete reinforcing fibers
Man-made concrete fibers can be classified into organic and inorganic fibers.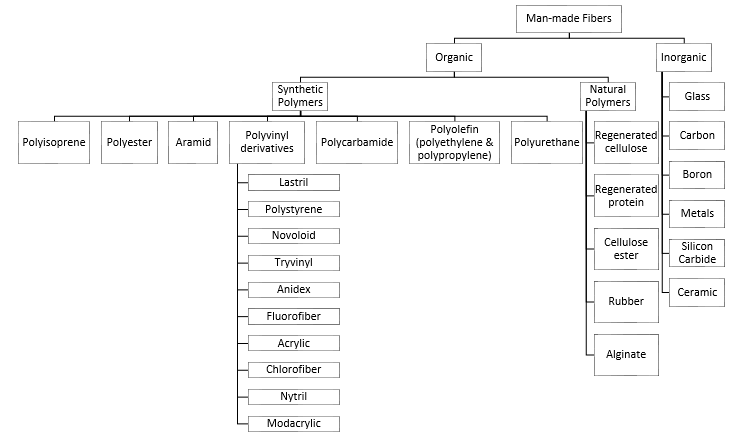 Organic fibers
Organic fibers are those that are primarily derived from living things, and can be further classified into synthetic and natural polymers. Most of these fibers have a relatively low elastic modulus. However, their benefits lie on other characteristics such as their cost and chemical resistance. In general, these fibers can enhance the cracking resistance of concrete while it is still in plastic phase, and may also influence its hardened properties. Nevertheless, some special types of concretes or composites incorporate these fibers not only to enhance their durability but also to tailor their mechanical performance.    
Synthetic polymers
Organic fibers based on synthetic polymers are quite common in concrete applications. Also, synthetic concrete reinforcing fibers are available in various types depending on their properties and function. In fact, these fibers and their properties have significantly improved with time due to technological evolvements and extensive research and studies.
Synthetic concrete reinforcing fibers include, polyethylene, acrylic, polyester, nylon, and those based on polyvinyl. However, the most common type of organic fibers is polypropylene. The following table shows the typical properties of some synthetic fibers for concrete.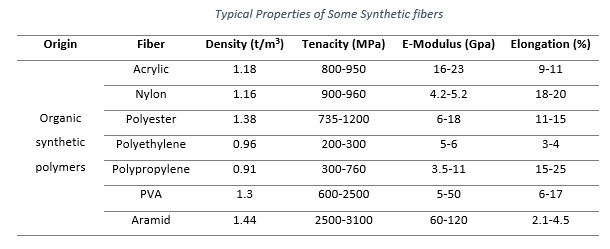 Polypropylene is one of the most widely available and cheapest polymers, and is resistant to various chemicals. In fact, polypropylene fibers are the most common synthetic fibers in the concrete industry.
Moreover, polypropylene fibers for concrete are available in different forms including mono-filaments, continuous films, collated bundles, and fibrillated. In general, mono-filaments can be easily dispersed but are somehow hard to work with. Whereas collated bundles are much easier to handle. In addition, continuous polypropylene meshes or fabrics, are also widely used in concrete.
Polypropylene fibers for concrete are also available in two distinct size categories, micro and macro fibers. The most important properties of this type of concrete fibers are its chemical inertness and hydrophobicity. In addition, it is beneficial for concrete subjected to fire damage. In fact, polypropylene melts at about 160°C, thus forming voids inside concrete. Hence, these voids reduce the vapor-accumulated pressure during high temperature exposure.        
Natural polymers
Organic fibers based on natural polymers are those originated naturally but modified with a human interference. Such concrete fibers include regenerated cellulose, regenerated protein, cellulose ester, rubber, alginate, and many others. Usually, these fibers are used in composites, especially polymer composites.
Inorganic fibers
Inorganic fibers include glass, carbon, boron, metals, silicon carbide, and others. Some of these concrete fibers can enhance and alter various properties of concrete. In general, they have a relatively high tensile strength and elastic modulus. However, their durability may vary depending on their type, treatment, coating, and production quality. Some of the common inorganic fibers for concrete include glass, carbon, and steel fibers. In brief, the following table shows the typical properties of some inorganic concrete reinforcing fibers.

A glass fiber consists of hundreds of individual filaments that form a strand. Then, strands are either woven to form a scrim or a mat, used as a roving, or chopped to form chopped bundled glass fibers in concrete.
However, normal glass degrades in an alkaline environment. Thereby, AR-glass or alkali resistant glass fibers for concrete is a more suitable option. These fibers are common in the production of thin concrete elements like facades or glass fiber reinforced concrete GFRC panels.
Carbon fibers is one of the latest additions to the range of concrete reinforcing fibers. This type of fibers has superior properties, such as high elastic modulus, tensile strength, and density. However it is usually more expensive than other types of fibers. Also, carbon fibers are somehow brittle, lacking ductility, and have a weak bond with the cement matrix.
Steel fibers are the most common man-made inorganic fibers in concrete. They are metallic reinforcements that are small enough to be randomly distributed in a fresh concrete mixture using regular mixing techniques.
Advantages of steel fibers in concrete
In fact, steel fibers possess adequate characteristics, such as high tensile strength, strong bond with the matrix, and high elastic modulus.
In addition, researchers extensively studied this type of concrete reinforcing fibers. The studies have shown that steel fibers not only control the plastic and drying shrinkage cracking, but can also enhance the overall properties of concrete. These properties include fatigue resistance, ductility, shrinkage resistance, toughness, impact, and blast loading. Furthermore, steel fibers in concrete can also enhance various strength properties including compressive strength, flexural strength, tensile strength, and shear capacity.
Classification of steel fibers
Steel fibers are available in different types, properties, shapes, sizes, and cross-sectional shapes, hence they are not all the same. In fact, they can be produced with different steel grades and types. In addition, they can be coated with a wide variety of materials, thereby affecting their overall properties.
According to ASTM A 820/A 820M, steel fibers can be classified, according to the production process, into five types: Type I cold-drawn wire, Type II cut sheet, Type III melt-extracted, Type IV mill cut, and Type V modified cold-drawn wire. Usually, type I, which is cold-drawn wire, has a higher tensile strength than the other types.
Furthermore, fibers are also available in different lengths ranging from 3 millimeters to more than 30 millimeters with different diameters.
Moreover, steel fibers are available in different shapes. For example, they may be straight, end-hooked, end-paddled, end-knobbed, coned, crimped, bow, toothed, surface-indented, irregular, or twisted shape. In fact, each shape may have a different influence on the properties of concrete, due to the different bonding and interlocking with the matrix.
In addition, steel fibers may have round, rectangular, or irregular cross-sectional shape, mainly based on the production process. Fibers produced from wires are usually round shaped, those produced from sheets are rectangular or square shaped, and those that are melt extracted are irregularly shaped.
Conclusion
Concrete reinforcing fibers can be primarily classified into two groups, natural and man-made. These fibers may have a significant effect on the overall performance of concrete. in addition, their properties can vary significantly depending on their type and treatment.