Concrete vs Asphalt Driveways: The Fair Comparison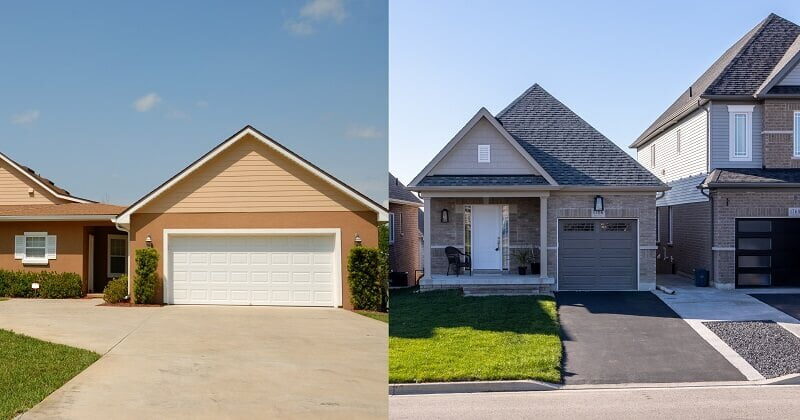 Last updated on February 11th, 2022
When it comes to paving driveways, the two most popular materials are concrete and asphalt. However, the common debate is, which is better? In brief, each has its own advantages and disadvantages, and the materials have various similarities and differences.
The similarities and main difference between asphalt and concrete
In fact, concrete and asphalt are somewhat similar, being heterogeneous and composed of aggregates bound together with a binding material.
However, the main difference in their composition lies in the binder. In concrete, the binder is generally cement and water. Whereas in asphalt it is generally bitumen – a residue of petroleum refining.
This difference in the binding materials leads to major differences in cost, overall performance, durability, and aesthetics between concrete and asphalt.
For a fair comparison, we will first consider seven key factors or parameters. Then, we will outline the pros and cons of each. And finally, we will weigh in the advantages of one over another to determine which outperforms the other and in which conditions. As a result, we will discuss which is better a concrete or asphalt driveway?
The seven key factors for comparing concrete vs asphalt driveways
The major comparison factors include cost, curing time, lifespan, aesthetics, frequent maintenance, repairs, and durability.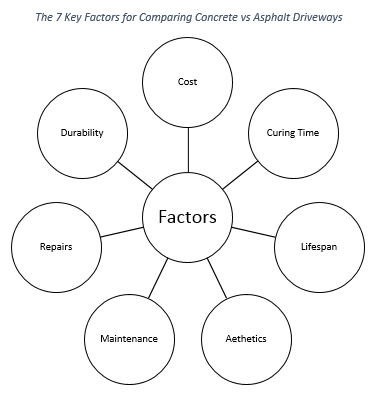 Cost of concrete vs asphalt driveways: is asphalt or concrete cheaper?
The cost of concrete or asphalt driveways per square foot can have a wide range, due to various controlling factors such as the location, size, surface preparation, thickness, exposure conditions, borders, colors, staining, stamping, sealing, and others.
But generally, the average costs of basic concrete vs basic hot mix asphalt driveways without major customizations, in the United States, United Kingdom, and Australia, are summarized in the following table.

In the United States, you can expect to pay for a basic concrete driveway from $4 to $7 per square foot, whereas for an asphalt driveway from $2 to $4 per square foot.
However, in the United Kingdom, the average cost of a basic concrete driveway is from GBP 55 to GBP 75 per square metre, whereas for an asphalt driveway from GBP 40 to GBP 60 per square metre.
Whereas, in Australia, the average cost of a basic concrete driveway ranges from AUD 65 to AUD 85 per square meter, whereas for an asphalt driveway from AUD 25 to AUD 50 per square meter.
It is important to note that these prices are basic and can easily double, especially for concrete, with customizations and add-ons.
Curing time: and when can you drive over new concrete and new asphalt?
It is generally recommended to wait at least 7 days before driving over new concrete, and preferably 10 to 14 days before parking a vehicle. In fact, normal concrete reaches about 65% of its strength after seven days of curing, and about 85-90% after 14 days.
For new asphalt, it is best to wait at least 1 day and preferably 2 to 3 days before driving over. However, resurfaced asphalt or overlay can be used earlier.
Lifespan: how long does a driveway last?
A concrete driveway should last from 25 to 40 years on average with proper maintenance. In fact, there are many factors that can influence its lifespan, including ground preparation, quality of the mixture, design, exposure conditions, maintenance, and others.
Whereas, an asphalt driveway can last anywhere from 10 to 30 years, with an average between 15 and 20 years. Also, similar to concrete driveways, there are various factors that affect the lifespan of asphalt driveways.
Aesthetics
Concrete driveways can have a wide range of customizations. For example, one go for stamped concrete, with an almost endless variety of colors, patterns, and textures. Also, concrete can be stenciled, stained, etched, painted, brushed, and much more. Hence, concrete can be customized in many ways to add a unique decorative touch to a driveway.
Similarly, asphalt driveways are also available with various customizations. They can be stamped, painted, or colored. However, the customization options are often relatively limited. For example, asphalt color choices are usually narrow.
Maintenance
Concrete driveways usually require routine maintenance, such as cleaning and sealing. When it comes to sealing, it is important to choose the adequate type of sealer with the required properties for your project. For example, it can usually be a good idea to use acrylic sealers for stamped concrete, but not all applications are similar or have the same requirements. Generally, basic quality sealers for concrete driveways can last anywhere from 1 to 10 years, depending on the type of sealer.
Find out how to choose the ideal sealer for any concrete application in the following article, "How to Choose the Best Sealers for Concrete Floors".
Similar to concrete driveways, asphalt driveways also require routine maintenance to keep them protected and in a good shape. In general, you can seal asphalt after about six months of installation, and it requires resealing every three to five years.
Repairs
Concrete driveways can suffer from cracks, color fading, stains, scaling, and other problems, if not properly installed and maintained. And generally, repairing such issues can be relatively uneasy, especially with decorative concrete. In addition, concrete driveway repairs are relatively costly.
Similarly, asphalt driveways can suffer from various issues including potholes, cracks, stains, and others. However, asphalt repairs are often relatively easy and are not expensive.  
Durability
A concrete driveway with proper installation and sealing is highly durable and can resist stains, tire marks, and freeze and thaw cycles. However, in cold climates, driveways are often exposed to salts and deicers, either directly or indirectly, which is generally harmful to concrete.
Likewise, properly installed and sealed asphalt driveways can be highly durable, even to salts and deicers. In addition, asphalt can withstand temperature variations due to its flexibility.  However, when it comes to hot climates, asphalt absorbs heat and can become hot and relatively softer and stickier.
Advantages and disadvantages of concrete driveways and asphalt driveways

Pros and cons of concrete driveways:
On one hand, the main advantages of concrete driveways are that they:
Have a long lifespan (25-40 years).
Are highly customizable (colors, patterns, textures, stencils, stains, etc…).
Require little or no repairs with proper installation and maintenance.
However, the disadvantages of concrete driveways (compared to asphalt) are that they:
Have a relatively high initial cost.
Are expensive and not easy to repair.
Can be deteriorated by salts and deicers (if not protected, sealed, or maintained).
Pros and cons of asphalt driveways:
On the other hand, the main advantages of asphalt driveways are that they:
Have a low initial cost.
Are inexpensive and easy to repair.
Are resistant to salts and deicers.
Absorb heat, which is beneficial in winter.
But, the disadvantages of asphalt driveways are that they:
Have a relatively short lifespan (10-30 years).
Have limited customization options.
Can get really hot in summer.
Require more repairs.
Concrete vs asphalt driveways: the weigh in
First, when it comes to initial cost, asphalt is obviously the winner. In general, the initial cost of a basic asphalt driveway is about 25% to 45% less than that of concrete.
However, considering the lifespan, maintenance, and frequency of repairs, the final or long-term cost would be actually very comparable.
Second, asphalt is also the winner when comparing the time needed before you can drive on after installation. In general, you need to wait 2-3 days before driving on a newly installed asphalt driveway, whereas at least 7 days for a concrete one.
Third, concrete by far outweighs asphalt with its lifespan. A concrete driveway can generally last between 1.5 to 2 times longer than an asphalt driveway. The average lifespan of a concrete driveway is 25-40 years, whereas it is 15-20 years for asphalt.
Fourth, concrete also outweighs asphalt when it comes to aesthetics or appearance. The customizations available with concrete are much more than those with asphalt.
Fifth, both concrete and asphalt should be preferably maintained with periodic cleaning and resealing. However, the maintenance frequency can vary significantly depending on the type and quality of the sealer, and on the exposure conditions. Hence, we will call it a tie when it comes to routine maintenance.
Sixth, asphalt is the winner when comparing the ease and cost of repairs between both materials.
However, asphalt often requires more frequent repairs than concrete. Hence, for the overall cost of repairs, the results are somewhat comparable.
Concrete vs asphalt driveways: climate matters
Last but not least, when it comes to durability, concrete can outperform asphalt in some conditions, and vise-versa.
For example, in hot climates, concrete driveways outperform asphalt. In fact, the main problems with asphalt in hot climates lie in the fact that asphalt can absorb heat and become hot, soft, and sticky.
Whereas, in cold climates, asphalt driveways outperform concrete. To be specific, the main benefits of asphalt is that, unlike concrete, it is not affected by salts and deicers. Also, asphalt absorbs heat, which is beneficial for driveways in cold climates.
In addition, both concrete and asphalt can resist various stains when sealed. But considering the common problematic stains and marks, such as oil stains and hot tire marks, asphalt performs better at hiding these stains.
So, which is better concrete or asphalt driveways?
In a nutshell, "which is better" depends on your preferences, requirements, and priorities. For example, if you want a long lasting highly customizable unique finish that you can properly maintain, concrete is better.
But as a general opinion, concrete is better in hot climates, whereas asphalt is better in cold climates.