Stamped Concrete Colors: The Ultimate Guide to Coloring Methods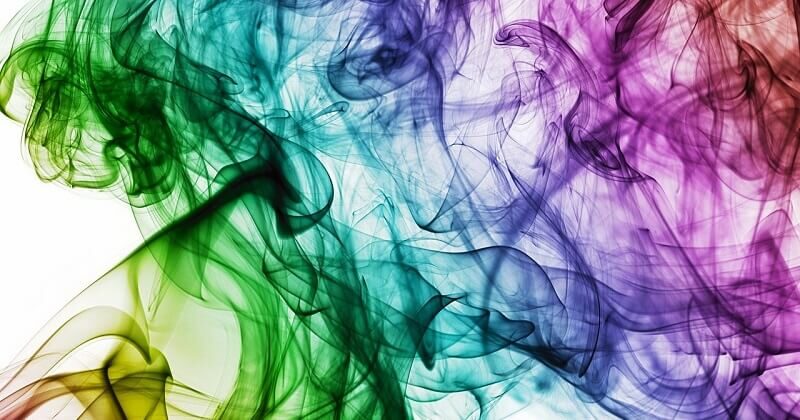 Last updated on April 5th, 2022
Main Coloring Methods
Stamped concrete colors can be of a wide range, almost any color you can imagine. But there are various ways to add or give color to this type of concrete.
Mainly, stamped concrete colors consist of a base color and an accent color(s).
Stamped concrete base color
The base color, or the primary color, can be created either with integral colors or with color hardeners.
Integral color
Integral coloring is the process of adding a pigment during the mixing process of the concrete mixture. Hence, the whole concrete volume will be colored.
This pigment can be in the form of a powder or a liquid, and its amount or dosage range may vary depending on the product specifications.
Tips
Always use high quality products and make sure the integral color complies with ASTM C979.
Use the dosage recommendation as per the product's specifications.
Make sure the exact same mix proportions and dosage of integral color are used between batches of the same project in order to maintain consistency in the stamped concrete colors.
Never add water while finishing colored concrete.
Never cover fresh colored concrete with plastic sheets in contact as a curing method.
Color hardeners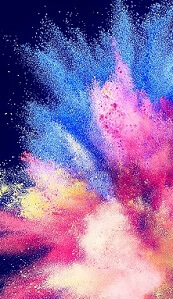 Whereas, colors hardeners, or dry shakes, in the form of a powder, give color only to the surface of concrete and not to the entire volume. The process involves broadcasting the coloring powder to the wet concrete surface followed by floating and troweling.
Tips
When using color hardener, it is important to cover the exposed surroundings and protect the people nearby. In addition, workers should always wear a dust mask since these powders can be airborne.
Always follow the product specifications for the adequate consumption rate of color hardeners.
How to properly apply a color hardener
The application of a color hardener is not a difficult task, but an accurate one. In fact, various factors can affect the end result including the concrete mixture, planning, timing, weather conditions, labor skills, and the type and quality of the color hardener. Hence, following an adequate procedure can help in controlling and avoiding common problems.
First, inform the concrete supplier about your requirements. In fact, it is important to have an adequate concrete mixture for ideal results. For example, excessive bleeding water can significantly affect the stamped concrete colors and overall appearance.
Second, efficiently screed and float the concrete to a flat finish.
Third, dust the color hardener over the surface of the wet concrete. This step usually starts as soon as no bleeding water is showing, while the concrete surface is still wet enough to activate the color hardener. Timing and experience are crucial here. When dusting, apply the color hardener evenly on the whole surface according to the product's consumption rate.
Fourth, leave the surface undisturbed for some minutes, usually between 2 to 10 minutes, depending on the conditions and materials. Here, the surface moisture activates the color hardener which eventually wets up.
Fifth, efficiently trowel and bull float the color hardener into the surface of concrete with a resin float and finish the edges.
Sixth, finish the surface with a Fresno or a steel trowel before giving it its stamped concrete pattern with the stamping process.
Tips
If any somewhat dry spots or areas are showing just prior to dusting the color hardener, pass the float over those areas to bring out some moisture.
Always apply an even coat of color hardener to the wet concrete surface.
Some manufacturers recommend dusting the color hardener on two coats, with half the full consumption rate per coat. Also, trowel and float the color hardener into the surface after each coat.
Never over-trowel areas or spots with color hardener. This can cause color inconsistency.
Always follow consistent finishing practices as a team.
Never sprinkle water during finishing or to activate the color hardener.
Do not cover fresh colored concrete with plastic sheets in contact as a curing method.
Timing and planning are the most important factors with this technique.
Integral color vs color hardener
The main benefit of integral color is that the whole concrete will have the color, and not just the surface. In addition, integral coloring requires less on-site effort, and is cleaner with no dust. Furthermore, it is a faster option.
On the other hand, the main advantage of color hardeners is that they often give richer stamped concrete colors than those of the integral. Also, they can even strengthen the surface and improve its durability. In addition, color hardeners have a wider range of colors to choose from. Furthermore, these colors can be combined to give unique shades and combinations, which is impossible with integral colors. Also, they are usually more cost effective. Moreover, surface repairs are much easier with color hardeners.
Concerning applications, color hardeners are a better choice for outdoor applications, since they enhance the properties of the surface. This is mainly beneficial in the exposure to salts, chemicals, abrasion, and freeze and thaw cycles.
For vertical applications, integral coloring is a better choice. Also, it is a better choice for most interior applications, since it is free of dust with less fumes. However, for polished floors, color hardeners are a better choice.
In addition, the combination of integral and color hardeners provides unique stamped concrete colors, great appearance, and good overall performance.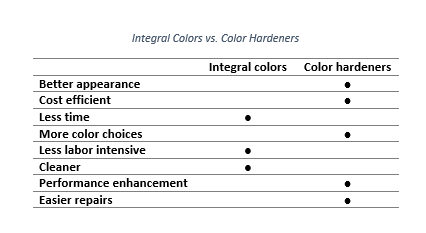 Stamped Concrete accent colors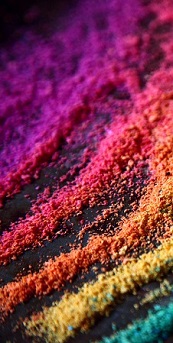 The accent color, also known as the secondary color, can be mainly created by using colored mold release agents. Mold release agents are compounds that aim to prevent the stamping mold from sticking to the concrete surface. In fact, there are two techniques for giving the accent color to stamped concrete with the use of colored mold release agents.
The first technique involves dusting this compound, in a form of powder, on the surface of concrete just before stamping. Hence, during the process of imprinting, the surface lightly absorbs some of the color, giving the accent stamped concrete colors and shades. Besides, it is also suitable to use multiple colors.
The second technique involves spraying a colored mold release agent, in a liquid form, to the stamps/molds/textures themselves and/or to the surface of concrete before stamping.
Tips:
Usually, increasing the stamping pressure can push more powder release agent into the surface and give a richer accent color.
It is important to cover nearby surfaces and wear safety masks and gloves when working with release agents.
It is important to properly wash off the colored mold release agent before sealing the concrete.
When washing off the colored mold release agent, you can somewhat control how much colors you are removing. However, it is always important to first remove all loose and excess release agent, which can cause adhesion issues with the sealer.
Do not use excessive pressure with a pressure washer when washing off the release agent. Too much pressure can cause problems to the surface of concrete.
Always make sure to properly wash off the mold release agent, otherwise you can have adhesion issues between the sealer and surface.
When working with powder, many experienced contractors use a brush for more even and uniform dusting.
Powder vs liquid mold release agents
The main difference between these two techniques is that the powder can absorb some of the surface moisture and thus accelerating the hardening of the surface. Whereas, the liquid can have an opposite effect, since it can form a layer that reduces the evaporation rate of the surface moisture. Hence, usually the powder technique gives less open time for stamping, whereas the liquid technique gives more open time.
The main advantage of powder release agents is that they are usually more cost effective than the liquid ones. In addition, powder stamped concrete release colors are of a wider range, which offer plenty of color choices to choose from. However, their main disadvantage is that they can be messy with indoor applications or beside pools, can be really messy and dusty on a windy day. Furthermore, the results of the stamped concrete colors when using a powder release are only obvious after washing off the surface.
On the other hand, the main advantage of liquid release agents is that they are less messy. In addition, the contractor can preliminary check on his results right away. However, liquid releases are usually more expensive. Also, another disadvantage of liquid releases is that, when the stamps are pushed into the surface and then pulled off, defects due to suction can be an issue.
Additional coloring methods
Additional stamped concrete coloring methods include the use of paints, dyes, colored concrete sealers and stains.
Painting stamped concrete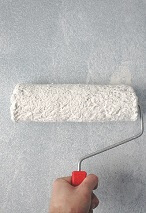 Another way of adding color to a stamped concrete surface is by hand-coloring or painting it. The main advantage of paint is that it is available in a wide range of colors. In addition, it is budget-friendly and easy to apply. However, paints are film-forming, and can peel off and chip. Also, they usually do not provide a realistic appearance to the surface, especially when the stamped concrete patterns resemble materials that have natural colors and shades. Nevertheless, various colors and even drawings are applicable with hand-coloring, and can achieve realistic and unique stamped concrete colors and artistic finishes.
How to hand-color or paint stamped concrete
Similar to common concrete painting applications, whether being vertical or horizontal, the steps of painting stamped concrete are almost the same.
First, after at least 28 days of pouring, thoroughly clean the surface to be free of color residues, release agents, curing or cure and seal compounds, and any contaminants.
Second, after the surface is dry enough, apply the primer if the product requires one, in a thin and even coat following the manufacturer's recommendations. If the paint of choice is self-priming, go to the next step.
Third, paint the surface with the adequate paint, following the manufacturer's recommendations.
Fourth, after the paint fully cures, apply a proper concrete sealer.
Tips
Stamped concrete surfaces that are dense and too smooth can lead to poor paint adhesion.
Always choose high quality paints that are suitable for your application.
Make sure to use an adequate sealer that is compatible to apply over the type of paint.
Dyes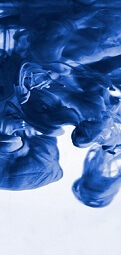 Concrete coloring dyes are inert compounds that penetrate the concrete surface and fill the pores to change its color. These agents can be either water-based or solvent-based. In addition, they are mostly in a powder form but can also be in a liquid form. Also, they are available in a wide variety of colors, which can be combined, diluted, or used simultaneously to give a unique artistic effect. However, dyes are mostly unstable with the exposure to UV, thus being suitable for interior applications only.
The application method of dyes includes spraying, rolling, brushing, or even simply pouring, depending on the requirements. Also, various other factors affect the application method such as the properties of concrete and its porosity.
Colored concrete sealers
Tinted or colored concrete sealers aim not only to seal and protect the concrete surface, but also to add a vibrant and decorative coloring touch to the stamped concrete colors. Also, they provide a practical solution for color corrections.
Mostly, these sealers are of a film-forming type, with little or no penetration to the surface of concrete. However, some relatively new penetrating sealers are available with colors and tints too. 
To learn more about the types of sealers for concrete, check out the following article, "The Major Types of Sealers for Concrete".
Colored concrete sealers are available either as pre-tinted products or as separate color concentrates for sealers. However, various types of tint concentrates for sealers are available in the market, and it is always important to check for compatibility with the sealer. Tinted concrete sealers can be either water-based or solvent-based.
The main concern of using tinted concrete sealers is that the pigments can form a film on the surface of concrete. Thus, this can significantly affect the bond strength especially on smooth surfaces, which eventually can cause the tinted sealer to peel off.
Pre-tinted concrete sealers vs color concentrates with sealers.
The advantage of pre-tinted concrete sealers is that they usually provide a higher color consistency, since manufacturers precisely measure and mix these products. In addition, they save time and compatibility concerns to the contractor. Furthermore, sealer repairs are much easier especially with color matching. However, the color choices are usually limited.
On the other hand, mixing color concentrates with sealers offer a wider color selection. In addition, the contractor can adjust the transparency and the richness of the color according to the dosage. However, they have major disadvantages when it comes to sealer repairs, color matching, and compatibility issues.
Tips
Usually, solvent based acrylic sealers for stamped concrete are the easiest type of tinted sealers to work with.
Adding too much color concentrate can weaken the sealer and reduce its durability.
Oxide based color concentrates are more stable and ideal for exterior applications.
When buying a separate sealer and color concentrate or tint, it is always better to stick to one manufacturer. Or, ask the supplier for their recommendations on the type or brand of color concentrate that is compatible with their sealer.
Solvent-based colored concrete sealers usually offer a richer and less translucent color effects than water-based ones.
When adding color concentrates to clear sealers, always check the with the product's recommendations on dosage rates. Never exceed the maximum allowable dosage rate, because it can affect the performance and the integrity of the sealer.
Staining
Concrete stains can be classified according to their reactivity into two groups, reactive and non-reactive. The former group primarily consists of acid stains. Whereas, the non-reactive stains include water-based and acrylic stains.
Reactive stains (acid stains)
Acid staining is the process of applying acidic compounds that react with concrete to give unique color effects. In fact, acid stains chemically react with calcium hydroxide, a product of the hydration mechanisms of cement, to alter the surface color and produce semi-transparent color effects. Thus, the concrete constituents and their proportions can affect the staining appearance.
Acid stains are suitable for both interior and exterior application. In addition, acid stains are available in variable colors, however they are mostly earthy colors.
How to acid stain stamped concrete
Staining stamped concrete requires following a basic procedure in order to avoid common application mistakes. The following procedure considers the application of acid stains not water-based stains.
First, usually after a minimum of 28 days of pouring, clean and prepare the surface. It should be free of contaminants, coatings, curing or cure and seal compounds, and any excess release agent. Also, protect your surrounding objects.
Second, after the concrete is dry enough, spray or brush the staining compound on the concrete surface.
Third, after the stain dries, thoroughly clean the surface with water.
Fourth, it is important to neutralize the surface. Mix a tablespoon of baking soda for every gallon of water, and use a squeegee or even a broom to spread and reach all grooves.
Fifth, after the surface dries enough, apply the sealer of your choice.
To determine which type of sealer is best for your project, you can read the following article, "Which Concrete Sealers are Best for Patios, Driveways, Pool Decks, and Garages".
Tips
Cleaning and preparation are always crucial for a good staining finish. Any residue or leftovers can be aesthetically annoying.
Always protect your surroundings, since acid stains can be hard to remove.
Always wear gloves and a protective mask when working with or spraying the staining compound.
You can apply the staining compound more than once for a richer color effect, usually with a few hours between applications.
Always follow the manufacturer's recommendations.
Always test the product on a small area or on a sample first.
Neutralizing the surface is crucial for proper adhesion of the sealer.
Make sure the sealer is compatible with the type of staining compound.
Depending on the type of the staining compound, the preparation and application methods can vary. For example, water based stains requires different surface preparation techniques. Hence, always follow the manufacturer's recommendations.
Non-reactive stains
Non-reactive stains are compounds which do not chemically react with concrete, but can also give a unique decorative touch to stamped concrete colors. Their main advantages lie on the fact that they are available in a wider range of colors than that of the reactive stains. Also, they are much easier to handle, and are often much more eco-friendly. In addition, such stains do not require neutralization, since they are non-acidic.
Based on their working mechanism, non-reactive stains consist of two types, penetrating and film-forming.
Penetrating non-reactive stains
The most common non-reactive stains consist of a blend of acrylic and pigments, which are mostly water-based. These stains, unlike acid stains, do not chemically react with concrete. However, they penetrate through its surface to fill the pores and create the color effect. Hence, penetrating non-reactive stains are somehow similar to dyes.
However, the main differences lie in the fact that dyes have a much smaller particle size, thus the can penetrate easier and deeper through the surface of concrete. In addition, dyes usually penetrate fast and dry relatively faster than stains, hence leaving almost no chance for mistakes. In addition, dyes are mostly unstable with UV radiation, thus are only suitable for interior applications, whereas stains are stable and are suitable for both interior and exterior applications.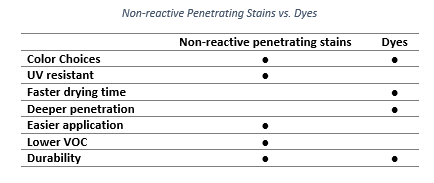 Film-forming non-reactive stains
Also, there is another less popular type of non-reactive stains which is not penetrating, but film-forming. This type of stains act somehow similar to paints, which adheres or slightly impregnates into the surface of concrete. However, the main difference between non-reactive film-forming stains and paints is that paints give a solid color and tend to hide the surface of concrete, whereas film-forming stains are translucent.
Penetrating non-reactive stains vs film-forming non-reactive stains
When comparing these two types of non-reactive stains, the penetrating outperforms the film-forming type. In fact, one of the main advantages of penetrating stains is that they give almost a permanent color to the concrete, when properly maintained. Whereas, film-forming stains are subject to wear and tear, peeling off, fading, etc.…
Question: Is stamped concrete without color a viable option?
You can stamp concrete without adding any base colors and accent colors, and then sealing it with a clear sealer. The result is having the natural grayish color of concrete, which can vary depending on the mix proportions and on its constituents.
You can find out about the frequently asked questions about stamped concrete in the following article, "Top 30 FAQ: Stamped Concrete Designs, Cost, Maintenance, and More!".