How to Remove Bronze and Copper Stains from Concrete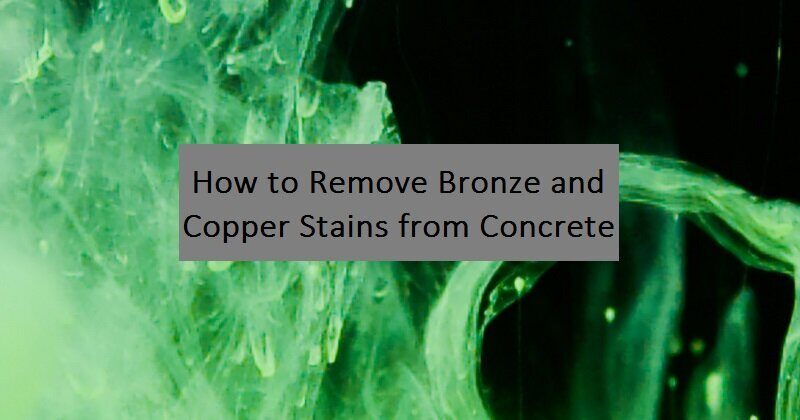 Last updated on December 1st, 2022
Bronze and copper stains on concrete surfaces and masonry are characterized by their blueish green color (and sometimes brownish), which makes them easy to distinguish. However, such stains are very unsightly, and are often tricky to remove due to their composition.
In this article, we will explain the most effective method for the removal of bronze and copper stains from concrete, with a step by step procedure. But first, let us briefly explain what those stains are and what causes them.
What causes bronze and copper stains?
The blueish green color of bronze and copper is basically due to the corrosion, in particular oxidization, of copper. In fact, when bare copper is subjected to water and oxygen, an oxidization reaction occurs, just like in iron which rusts, but forms a blueish green patina.

One of the most common examples is the Statue of Liberty, which contains a layer of copper, which was initially brownish copper, and turned blueish green with time. However, in this specific example, several reactions occurred throughout the years to give this exquisite patina.
Almost similarly, fixtures, pipes, drains, and basically any bare object which contains these metals can cause the blueish green stains on concrete and masonry at your house. In fact, the most common cause for bronze and copper stains on concrete surfaces in residential buildings is roof water runoff.
The ideal removal method
One of the most effective methods for the removal of bronze and copper stains from concrete is the application of an ammonia poultice. In fact, this poultice can generally remove the most stubborn form of such stains with two or three applications.
How to remove bronze and copper stains from concrete with a poultice

This method involves the application of a poultice saturated with ammonia to remove even the toughest bronze and copper stains.
Things you will need
Safety gear.
Ammonium chloride.
Ammonium hydroxide (household ammonia).
Talc / calcium carbonate / diatomaceous earth / cat litter.
Plastic sheet.
Bristle brush.
Clean water.
Notes
Ammonium Chloride: Other names include Amclhor, chloride of ammonia, sal ammoniac, and salt of ammonia.
Appearance: White crystalline compound.
Availability: It is available at cleaning, hardware, and chemical supply stores.
Hazards: This product is toxic and corrosive.
Ammonium Hydroxide: Other names include household ammonia and ammonia water.
Appearance: Colorless liquid.
Availability: It is available at the supermarkets, and cleaning and hardware stores.
Hazards: This product is toxic.
Procedure
Put on your safety gear.
Mix 1 part of ammonium chloride with 4 parts of talc, then add household ammonia to form a thick paste.
Apply the poultice to the bronze and copper stain, cover with a plastic sheet, and leave until dry.
Scrape off the remains, and scrub using a bristle brush.
Rinse thoroughly with clean water.
Repeat as needed.
Explanation
For this cleaning method, you should first wear your protective gear. Then, mix one part of ammonium chloride with 4 parts of talc, calcium carbonate, or diatomaceous earth by weight.
Next, add household ammonia, diluted as per the product's instructions, to this mix of solids to create a thick paste, and apply to the stains. Mainly, this poultice should be about 1/8 to 1/4 inches thick (~3-6 mm), covering an area slightly larger than the stain. Then, cover the poultice with a plastic sheet to reduce evaporation and boost its effectiveness.
Then, after the poultice dries (in about 24 hours), scrape it off and scrub with a stiff bristle brush to remove any residue. And finally, rinse and flush the surface with clean water. In general, it takes a couple of attempts to remove stubborn bronze and copper stains from concrete, thereby you can repeat the process until the stain completely disappears.
How to prevent bronze and copper stains?

What is better than cleaning and removing these stains from concrete is preventing their formation. In fact, removing copper stains from concrete is usually just a temporary solution, unless you perform preventive or protective methods.
The ideal method basically involves finding a solution for the cause. For example, it may be a culprit fixture, corroded pipe, or any object with bare bronze or copper metal which is subject to weathering conditions. Accordingly, the best solutions include replacing, or treating the metal with a sealer, protective paint, or coating.
Another method, which is protective at the level of the recipient surface, is to seal the concrete or masonry. In fact, the application of an adequate type of sealers can prevent the staining, or at least make the cleaning process much simpler.